Official Obituary

The following is the official obituary that ran in the LA Times on Friday, November 21, 2003. The same article was picked up by USA Today and other newspapers along the way, but the Los Angeles Times was first to run this article.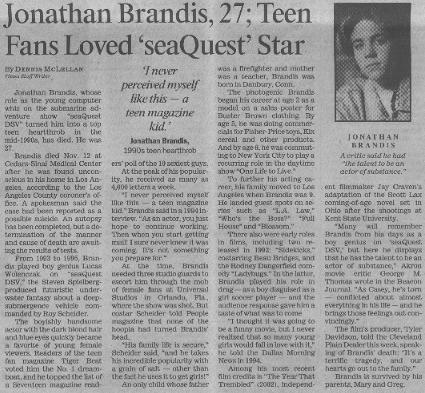 (Thank you to Rosalyn for sending me the physical article from the paper!)
---
OBITUARIES

Jonathan Brandis, 27;
Teen Fans Loved 'seaQuest' Star
By Dennis McLellan, Times Staff Writer
Jonathan Brandis, whose role as the young computer whiz on the submarine adventure show "seaQuest DSV" turned him into a top teen heartthrob in the mid-1990s, has died. He was 27.
Brandis died Nov. 12 at Cedars-Sinai Medical Center after he was found unconscious in his home in Los Angeles, according to the Los Angeles County coroner's office. A spokesman said the case had been reported as a possible suicide. An autopsy has been completed, but a determination of the manner and cause of death are awaiting the results of tests.
From 1993 to 1995, Brandis played boy genius Lucas Wolenczak on "seaQuest DSV," the Steven Spielberg-produced futuristic underwater fantasy about a deep-submergence vehicle commanded by Roy Scheider.
The boyishly handsome actor with the dark blond hair and blue eyes quickly became a favorite of young female viewers. Readers of the teen fan magazine Tiger Beat voted him the No. 1 dreamboat, and he topped the list of a Seventeen magazine readers' poll of the 10 sexiest guys.
At the peak of his popularity, he received as many as 4,000 letters a week.
"I never perceived myself like this — a teen magazine kid," Brandis said in a 1994 interview. "As an actor, you just hope to continue working. Then when you start getting mail! I sure never knew it was coming. It's not something you prepare for."
At the time, Brandis needed three studio guards to escort him through the mob of female fans at Universal Studios in Orlando, Fla., where the show was shot. But costar Scheider told People magazine that none of the hoopla had turned Brandis' head.
"His family life is secure," Scheider said, "and he takes his incredible popularity with a grain of salt — other than the fact he uses it to get girls!"
An only child whose father was a firefighter and mother was a teacher, Brandis was born in Danbury, Conn.
The photogenic Brandis began his career at age 2 as a model on a sales poster for Buster Brown clothing. By age 5, he was doing commercials for Fisher-Price toys, Kix cereal and other products. And by age 6, he was commuting to New York City to play a recurring role in the daytime show "One Life to Live."
To further his acting career, his family moved to Los Angeles when Brandis was 9. He landed guest spots on series such as "L.A. Law," "Who's the Boss?" "Full House" and "Blossom."
There also were early roles in films, including two released in 1992: "Sidekicks," costarring Beau Bridges, and the Rodney Dangerfield comedy "Ladybugs." In the latter, Brandis played his role in drag — as a boy disguised as a girl soccer player — and the audience response gave him a taste of what was to come
"I thought it was going to be a funny movie, but I never realized that so many young girls would fall in love with it," he told the Dallas Morning News in 1994.
Among his most recent film credits is "The Year That Trembled" (2002), independent filmmaker Jay Craven's adaptation of the Scott Lax coming-of-age novel set in Ohio after the shootings at Kent State University.
"Many will remember Brandis from his days as a boy genius on 'seaQuest DSV,' but here he displays that he has the talent to be an actor of substance," Akron movie critic George M. Thomas wrote in the Beacon Journal. "As Casey, he's torn — conflicted about almost everything in his life — and he brings those feelings out convincingly."
The film's producer, Tyler Davidson, told the Cleveland Plain Dealer this week, speaking of Brandis' death: "It's a terrific tragedy, and our hearts go out to the family."
Brandis is survived by his parents, Mary and Greg.